Ω
Mystery continues to surround an ancient burial box that is inscribed with the words, "James son of Joseph, brother of Jesus," after a Jerusalem court found Oded Golan, a private collector of antiquities, not guilty of forging the inscription.
The court said the 2000-year-old box will probably "continue to be investigated in the archaeological and scientific arena, and time will tell," according to a report from Reuters. The court's decision puts an end to a legal battle that began in 2004 when Golan was indicted.
Read more
The affair began following the surprising appearance of two archaeological exhibits of historical, religious and political importance, which were exposed to the public through the media and left the archaeological world in a state of consternation.
The first exhibit that was revealed is a standard ossuary (a ceramic coffin) that was used for gathering bones in the Second Temple period. What was unique about this particular ossuary was the inscription engraved on its front, according to which it belonged to "James son of Joseph, brother of Jesus". The ossuary was first displayed in an exhibit in a Canadian museum and garnered world-wide acclaim through the media due to it alleged connection to the family of Jesus of Nazareth.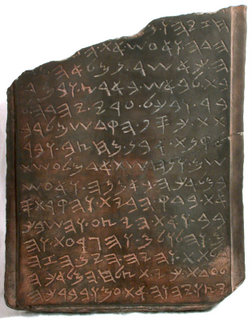 Jehoash inscription
The second item was a building inscription engraved on a stone in ancient Hebrew script, which was attributed to renovations carried out by King Jehoash on the First Temple in the late ninth century BCE. Hence, this is supposedly the only surviving item of the First Temple ever, thus constituting proof of the First Temple's existence and authentication of the biblical text appearing in the Book of Chronicles.
The appearance of the two items in late 2002 and early 2003 fired the imaginations of millions of Christians around the world, who received tangible proof of Jesus' family, and of thousands of Jews who ostensibly now had physical evidence from the First Temple and archeological verification of the biblical stories.
The Israel Antiquities Authority, in its capacity as the governmental agency responsible to treat and manage all matters regarding antiquities in the State of Israel, convened two committees of experts to examine the two exhibits. The committee members were selected from amongst the foremost experts in the fields of archaeology, epigraphy and ancillary sciences from the Israel Antiquities Authority and all of the leading universities in Israel. Several months later the experts published their opinion, which stated that both items are modern forgeries: new and modern lettering had been added to the original ossuary; while the Jehoash inscription is an utter forgery.
Other experts obviously disagreed.